In today's world, we have GPS receivers in our phones, tablets, cars, boats, motorcycles and even watches. So it's no surprise that we are starting to see GPS systems on snowmobiles and ATVs. Many people ask me "What's the best GPS for snowmobiling?" or "Is that a Garmin snowmobile GPS?"
A snowmobile or ATV GPS must perform two basic functions regardless of whether it is in your car, motorcycle, boat, snowmobile or ATV. It must have the ability to track where you have been (trip log) and it must show where you currently are on a basemap. It's the primary purpose of all GPS units to perform these two basic functions. Our ATV and snowmobile trail GPS maps are overlaid on top of the Garmin basemap. Other optional GPS functions include routing, traffic alerts, geocaching, Bluetooth, music, weather alerts, data sharing, lifetime maps, cameras, topographic maps, compass, altimeters and the list goes on.
What makes a GPS a snowmobile trail GPS or an ATV GPS is your willingness to mount it on your sled or ATV. So its ability to survive bumps, rain, snow, dirt and freezing cold temperatures are important! Other human factors considerations such as screen size and ease of use should be considered. Lastly, what is your snowmobile or ATV GPS system going to cost?
The majority of people I talk to are surprised to learn they can use the Garmin GPS sitting in their glovebox to display our maps. In this review, I'm going to compare the Garmin Nuvi 52 and the Garmin Montana 600 for use with GPS trail maps. The Nuvi 52 is typical of most Nuvi models. The Montana 600 is typical of the Montana 600 series and most outdoor hand held units. This comparison ia also applicable to buying a GPS for your ATV.
The Nuvi 52 is an automotive GPS designed to be in your car, protected from the weather and plugged into your cigarette lighter port. The Montana, on the other hand, is designed for outdoor use such as hunting or hiking. The automotive Nuvi 52 might fail if it gets too wet or too cold. The battery life in the cold is no more than a couple hours at best. The Montana has an IPX7 waterproof rating. The operating temperature, although not specified anymore, use to be -4 degrees F. The Montana will last an entire day on its dual power battery system.
I recommend that you hard wire any GPS you decide to use to your battery or plug in to a 12V accessory port. The reason is two-fold. First it takes all the worry out of wondering if your battery will die at worst possible time and second it will help keep the unit warm. The Nuvi will generate heat internally if powered off the sled to help with the cold. Mounting your GPS deep in the crevice of the windshield will protect the unit from snow. Protective cases like the RAM Mount Aqua Box are available as well. Some people have put hand warmers inside these cases to help battle the cold. The advantages of a Nuvi type GPS is the large screen, simple operation and the price. The disadvantages are its reliability/challenges to protect the unit from the elements and the limited functionality.
The Montana has the ability to customize just about everything including what information is displayed on the screen, colors for the trip log and saving hundreds of routes, tracks and waypoints. The disadvantages are the high cost and complexity to use.
There are less expensive outdoor GPS units but they come with smaller displays. There are also more expensive automotive units with more features and even larger 6" and 7" displays.
If you are looking for a recommendation for the best GPS for snowmobiling, I personally will be using our GPS snowmobile maps on the Montana 600 because of its reliability and screen size. I will also be utilizing the advanced track and waypoint management features of the Montana 600.
| | | |
| --- | --- | --- |
| | Nuvi 52 | Montana 600 |
| Similar Too | Nuvi 50, 50LM, 52LM, 54 | Montana 600t Camo, 650, 650t |
| Intended Use | On the Road | On the Trail |
| Bundle Price (GPS, cradle, wire & mount) | $189.99 - $234.99 | $569.99 - $599.98 |
| Display | 5" diag. | 4" diag., sunlight readable |
| Battery Life | 2 hours | 16 – 22 hours |
| Battery Type | Rechargeable | Rechargeable or 3 AA batteries |
| Waterproof | No | IPX7 Rating |
| Operating Temperature | Not specified | Not specified |
| Trip Log (breadcrumb trail) | Yes | Yes |
| Trip Computer | Yes | Yes |
| Waypoints | 1000 | 4000 |
| Tracks | Current trip log only | 10,000 points, 200 tracks |
| Routes | No | 200 |
| Auto-route Snowmobile Trails | Yes | Yes |
| Auto-route Streets | Yes | Yes with purchase of City Navigator map from Garmin |
| Multiple Supplemental Maps | Yes | Yes |
| Customize Display | No | Yes |
A Detailed Comparison
Let's take a closure look at some of the key features of these two units as a "snowmobile GPS". The same comparison applies as an "ATV GPS". I may at times bounce back and forth between the "automotive" category and the "Outdoor" category vs the specific Nuvi 52 and Montana 600 models. As a point of clarification the "LM" version of some Garmin automotive GPSs stands for Lifetime Maps. The "t" version of some hand-held units stands for Topo. A factory supplied topographical map (Topo) can be used as the basemap for your trails.
Intended Use
The Nuvi 52 is an automotive GPS designed to be used in your vehicle where it is nice and warm or cool in the Summer and has a handy cigarette lighter accessory plug for power. These units are intended to navigate roads and find cities and addresses. They will have features like "lane assist" and "junction view", "spoken turn by turn directions" and display the speed limit of the road you are on so you don't get a speeding ticket. These units are VERY simple to operate and have large screens which is why many people like them. They have very detailed street maps and the LM versions come with free street map updates for life.
The Montana 600 is a hand-held, although really too large to carry in your hand, made for outdoor use. The intended use is hiking, hunting, boating, ATVing, motorcycling and yes, snowmobiling too! The outdoor units are durable and water resistant. Because these units have many applications, there are more mounting choices. An outdoor GPS can be used to navigate streets if it has the turn by turn feature and is loaded with a basemap that is routable. The features include things like 3-axis compass, barometric altimeters, multiple battery types (rechargeable + AA batteries), geocaching, track and waypoint management, screen customization and activity profiles. The basemap that comes with these units is usually not that great.
Display
Both of the units have a glove-friendly touchscreen display. This means the display is pressure sensitive not heat sensitive like a smart phone. It also means the display can be operated through the lens of a protective case such as the RAM AquaBox. The automotive units do not usually have a "sunlight-readable" display like the outdoor units have. On the other hand, the automotive units come with larger displays (5" - 7"). The Montana is somewhat unique in that it has a dual orientation display which means it can be mounted landscape or portrait.
The Basemap refers to the default map that is displayed on your GPS from the factory. The term "Basemap" is used more often with the outdoor units and often is a rudimentary road map with major highways and minimum accuracy. The specs on an automotive unit will usually read "Preloaded street maps" rather than "Basemap". Our ATV and snowmobile trail maps are developed as a "transparent map" which means that when our map is displayed on the GPS, the underlying basemap will still be visible. I will often refer to these factory installed basemaps as the "Background Map" or "Reference Map". If our trail map was displayed without a background or reference it would be like drawing a line on a blank sheet of paper, you would not know if the line crossed a road or rail bed, traveled along a power line or crossed a body of water. Of course, as you are riding, you will know when you cross a road or lake but you won't know which one. These reference features can help set context of where you are; for example you can see that your trail parallels highway 89 or follows Nash Stream. There are several options for the basemap of your GPS along with the factory basement, there are factory installed topographic maps, third party topographic maps and the custom Background Map that comes with our X Package products.
Paper snowmobile maps provide an excellent reference particularly on a large scale and should ALWAYS be used in combination with your GPS snowmobile maps.
Battery Life
The battery life of your GPS system when used for snowmobiling or ATVing is extremely important. The safety aspects of riding with our GPS maps is that you are able to track where you have been, creating a breadcrumb trail. This is called your "Trip Log" in the automotive world and "Track" in the hand-held world. If you don't have your GPS running from the time you leave your home base to the time you return, you will not have that complete breadcrumb trail. If you were to lose power at the unfortunate time that you found yourself lost it could be disastrous. Never become so reliant on your GPS that you lose sight of where you are, your gas levels and how you plan to get home. Even if power was not a problem, your GPS could die or possibly fall off your OHRV and get lost. I recommend that you wire-in your GPS to eliminate the possibility of running out of power. In simple terms, the battery life of most automotive units is poor and not suitable for ATV or snowmobile trail riding. The battery life of hand-held units is generally very good and should last for a day's riding.
The battery type should also be considered when buying a snowmobile or ATV GPS. Most automotive units will have rechargeable lithium-ion batteries. They don't last very long on a single charge but you can keep them on the charger constantly. These units can be wired directly to your snowmobile 12V system or ATV battery and forever charging. Most outdoor units also come with rechargeable batteries, however there are some that don't. The units that operate exclusively on non-rechargeable batteries will usually not operate off your sled or ATV 12V system. Check the specifications and operation of the unit before you buy a GPS for snowmobile trails.
Ruggedization
I refer to a unit's ability to survive its environment as "ruggedization". Garmin does not yet explicitly advertise a GPS system for snowmobiling. They do advertise the Montana as a GPS for ATVing. Since snowmobiling is a tougher environment for electronics, I will focus this section on the Winter environment. Garmin does not publish an operating temperature on the website but the Montana 600 series Owners Manual lists the operating temperature range as -4 degrees F to 158 degrees F. I have used my old Nuvi 500 multiple times in temperatures down to -20 degrees F. The Nuvi 500 is discontinued but was designed as a hybrid model (motorcycle and automobile) so it can be considered equivalent to the Montana and other outdoor GPS design specifications. The automotive units are not designed to operate in the extreme cold so the actual reliable operating temperature would need to be "tested" by you or take other precautions to keep the unit warm. Most outdoor GPS models have an IPX7 water rating which although not designed to be submerged it is more than adequate to survive snow, melting snow and light rain. The official IPX7 water rating from the Garmin site is:
"Withstands incidental exposure to water of up to 1 meter for up to 30 minutes. Indoor/outdoor use in the presence of rain, snow or brief splashes of water. Unsuitable Activities: Any immersion of more than 1 meter, regardless of duration of immersion, or any immersion of more than 30 minutes, regardless of depth of immersion."
The third aspect of ruggedization is shock, will the unit withstand a drop or some banging around? Again, Garmin does not publish a shock specification but the hand-held units have thick cases with rounded corners - a more "shell" type design. I would not recommend dropping your unit but if you did, the hand-held units are more likely to survive and should be considered when purchasing an ATV trail GPS.
Trip Log
The Trip Log is a VERY important feature to have when considering a GPS for ATV or a GPS for snowmobiling. The Trip Log is a recording of where you have ridden with your trail GPS. This is one of the most basic features of a GPS and so almost every model in both the automotive and outdoor categories will have this feature. It is called different things but all mean the same thing. Automotive units will call it a "Trip Log". Hand-helds units will call it a "Track log" or just "Track". The non-technical term often used is "breadcrumb trail". Almost every unit Garmin makes in these two categories has this feature but the control and management of the trip log is very different. The Nuvi 52 will give you the option to "Show" or "Hide" your trip log - that's it! In fact the Nuvi 52 does not even have the ability to clear the trip log, it just keeps recording in what's called a circular buffer. The memory used to record the trip log is a fixed size. When the memory is full, the oldest data is over-written with new data. If you were traveling across the county, the trip log data recorded in New Hampshire would be over-written with the trip log data from Indiana and then over-written with trip lag data from Nebraska and so on. What this means when using a GPS for snowmobiling or ATVing is that your trip log may include the drive to trailer in in addition to your trip on the trails.
On the other hand, the hand-helds GPS units have more management features than you know what to do with. Not only can you show/hide the track log, you can set the recording resolution, either in terms of time, distance or auto. You can save all or a portion of the track log, name the track, set the color, plot the elevation, delete a track and clear a track. This means you have more control of what and how your track log is recorded and for those interested in saving favorite rides or good riding spots are able to do this. Unlike the circular buffer of the Nuvi, the Montana can store 10,000 points and 200 saved tracks.
Trip Computer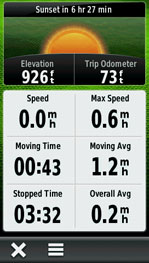 The Trip Computer is a nice feature to have but not mandatory when considering a GPS for ATV or snowmobile trails. The Trip Computer displays interesting things like current speed, average speed, maximum speed, moving time, stopped time and trip odometer. Both the Nuvi 52 and the Montana 600 have a trip computer. The Montana trip computer is configurable, meaning you can choose what information is displayed in the six available fields.
The picture of the sun and sunset time is cool and that section also displays your current elevation and your trip odometer. If you purchase the optional tempe sensor, you can have the outdoor ambient temperature displayed in one of the fields. There are tons of data fields that can be selected in categories such as speed, sunrise, time, distance, elevation and more. Many don't have a lot of value for snowmobiling but are available none the less. I personally set mine to show Total Trip Time, Max Speed (of course), Moving Time, Moving Average, Time of Day and Temperature. The Tempe sensor is wireless and clips onto a bag or a spot on your jacket.
Waypoints, Tracks & Routes
I put these three constructs into the same section because they are similar yet different. I already talked about Tracks a little bit under the Trip Log section. The construct of a Track is a series of time-stamped points at a particular latitude and longitude on the globe. A track is drawn by connecting the dots (or points). A track segment is the line drawn between any two points. You can derive speed and direction of travel by subtracting the time-stamp of one point from the time-stamp of the point before it. A "high resolution" track has points that are closer together in time and distance. A high resolution track will show more curves in the trail than a track with points that are farther apart. The Trip Log on automotive GPS systems is a track.
The Montana 600 has the capacity to collect 10,000 points in a single track and then has capacity to save 200 tracks. The Track Manager application on the Montana and other handheld GPSs allow you to save and name your tracks, save just a portion of your track, plot the elevation, set the color of the track and view any one of your tracks on the map. The Nuvi 52 and most automotive GPSs have a very limited track record buffer and none of the features available with the Montana Track Manager.
A Waypoint is a single point with a latitude and longitude on the globe. Waypoints can have associated data like name, address and the symbol used to display the waypoint on the GPS. You would create a waypoint to mark a gas station, restaurant, intersection, hotel, etc. on your GPS.
The Montana 600 has the capacity to collect 10,000 points in a single track and then has capacity to save 200 tracks. The Track Manager application on the Montana and other handheld GPSs allow you to save and name your tracks, save just a portion of your track, plot the elevation, set the color of the track and view any one of your tracks on the map. The Nuvi 52 and most automotive GPSs have a very limited track record buffer and none of the features available with the Montana Track Manager.
A Route construct is a series points, similar to waypoints but called "via points" and don't typically have the extra data associated with them like an address and a symbol. A route is automatically calculated by the GPS creating a path from one via point to the next. A route on your GPS snowmobile map will follow the trails. A route on your GPS street map will follow the roads. This is why it is important to have only one "routable" map enabled on your GPS at a time.
Routes can be created "offline" using Garmin BaseCamp and then loaded onto your GPS provided; your GPS supports "Trip Planning". The Nuvi 52 does not support routes/trip planning. That does not mean you can't auto route from your current location to a Favorite saved on your GPS or to a gas station point of interest within our trail map database. You can still do this. The difference is a route can indicate multiple via points, including a start point that is different than your current location. A route gives you more control over the path; it's not just the shortest distance between two points, it may include several via points that create a "loop" or take a scenic route rather than the shortest path or fastest path. The Garmin Montana supports offline routing and also comes with a Route Planner application with multiple ways of creating routes out on the trail directly on your GPS.
In summary, when it comes to waypoints, tracks and routes, the hand-held GPSs have a clear advantage. The Montana has powerful applications for Waypoint Management, Track Management and Route Planning. The Nuvi 52 has an extremely limited track capability as described above in the Trip Log section. The Nuvi 52 can save and name waypoints (Favorites) BUT the Nuvi 52 cannot import routes or create routes from multiple via points. It can only route from your current location to a single destination (Where To).
Auto-routing
Snowmobile and ATV GPS maps provide a sense of confidence knowing where you are and where the next intersection will lead and makes you a little more safe knowing where you are and how to get home. The auto-routing capability of snowmobile GPS maps and ATV GPS maps is the convenience of getting turn by turn directions to a destination. The destination may be a restaurant for lunch, a gas station to fill up or the point you call home. A route can also be a pre-planned loop using via points as described above. Auto-routing is a feature that requires a routable GPS map and software on the GPS to calculate a route. Our GPS trail maps are routable maps. All automotive GPS units are capable of auto-routing but not all hand-helds have this feature. Both the Nuvi 52 and the Montana 600 have the ability to auto-route snowmobile and ATV GPS trail maps. The Montana however does not come with a routable street map but you can purchase the City Navigator street map for it to use as an automotive GPS.
Multiple Supplemental Maps
This feature is of interest to riders who have more than one GPS trail map such as our ATV GPS trail map and our snowmobile GPS trail map or to people who have multiple basemaps such as a topgraphic map and want to be able to load all their maps onto the GPS at the same time but enable/disable these maps independently.
Memory
The amount of memory on your GPS should be only be considered if you plan to install other supplemental maps in addition to your snowmobile or ATV trail map. The transparent trail map overlay of our GPS maps is extremely small, on the order of 500KB to 2MB. The detailed maps used as the background reference are the main consumers of your GPS memory. Our background map tops out at 40MB for the New England snowmobile trail map. Topographic maps have significant detail and often cover large areas within the United States and therefor consume large amounts (GBytes) of memory.
The other use of your GPS memory id for recording and saving tracks and waypoints. GPS models equipped with cameras and MP3 music will require GPS memory to store photos and music. If equipped, the GPS SD or microSD slot provides a way to expand your GPS memory.
Our preloaded SD card is offered as a convenience for plug-n-play installation to your GPS but is usually not required for most Garmin GPS models.